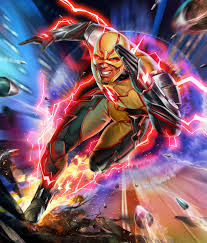 The Reverse Flash is a Gold 3-star base Metahuman hero whose shards and gear may be purchased with League Credits (100 for 5 shards or 1 piece of gear) earned in Raids.
The Reverse Flash's passive is one of the very few that can be detrimental to himself; it is often easy to exploit, for example by KO'ing one of his teammates with a supermove, leaving you on low power as he tags in, and he has a high chance of giving you his power.
The Reverse Flash (Eobard Thawne) is introduced in the Injustice 2 console game. He did not make an appearance in Injustice: Gods Among Us, but was released as a mobile-exclusive character in the first Injustice Mobile game. However, that version is based on the adaptation on The Flash and does not have "The" in the name.
5 shards of The Reverse Flash or 1 piece of his gear used to cost 200 League Credits until the price was reduced upon the release of King of Atlantis Aquaman.
Community content is available under
CC-BY-SA
unless otherwise noted.