This page is currently under construction. The information contained within should not be considered fully accurate and/or complete.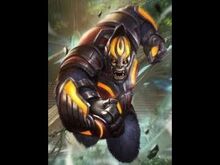 Telekinetic Gorilla Grodd is a Might class Hero.
Obtaining
Edit
Abilities
Edit
His passive is a block breaker and can crit. Occasionally if it is triggered right before he uses a special, his passive will do no damage. If his opponent tags out during his special and it trigger, it would hit them after the special finishes.
Boss Gorilla Grodd has the same portrait as Telekinetic Gorilla Grodd with level 60+ gear, but lacks his Psi Shield or passive.