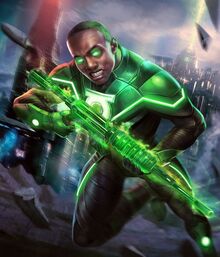 John Stewart Green Lantern is a 2-star base, gold Arcane class hero whose shards and gear may be purchased with League Credits earned in Raids, at 100 credits per 5 shards or 1 gear piece.
He is extremely beneficial in phase III of Boss Brainiac, being able to negate secondary effects from hazards; his team would be able to stand in the power-draining (yellow) hazards indefinitely with no ill effect.
He is also a playable fighter in the first game, although in the story, he is dead before the first console game's events happen.

Both versions of him have an ability that allows them to shoot his opponent several times with a green energy construct rifle, alluding to his origin as a US Marine. His hero advantage against phase III Brainiac is also named "Military Constructs".

He's the only 2-star base League Credits hero.
Community content is available under
CC-BY-SA
unless otherwise noted.