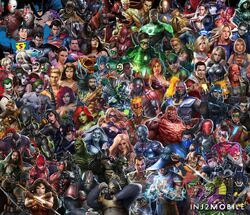 Heroes are fighters in the game, regardless of morality or alignment. They are all variants of a number of Characters (the terminology from NetherRealm Studios are often inconsistent, and they may use "character" to refer to heroes, but on this wiki the aforementioned terminology is used for consistency, subject to change). All of them belong to one of the five distinct Classes.
Fighters who are non-playable characters are not considered heroes and only non-bosses ones can be played using Unhinged Harley Quinn's passive once defeated or by cloning them with Sub-Zero's passive.
Heroes can be obtained directly through the store or through the accumulation of the requisite number of shards. All currently released heroes and their gear can be checked in "Roster" on the home page. Unobtained heroes have their portraits in grey and a progress bar showing how many shards have been collected so far, their model also has patches of nothingness when you tap on the card until you unlock them.
Shards are also used to upgrade the Star rating of the heroes you possess. Any duplicate obtained of a hero already possessed is immediately converted into shards. There are three tiers of heroes: silver, gold, and Legendary (purple), with different shard requirements to unlock and upgrade.
All heroes have their own gear, which can be equipped to increase their crit damage, crit chance, health, damage or defense. Once they have all 5 of their gear, their appearance may change.
Hero Level is another main way to increase a hero's power; by winning matches or using XP Capsules heroes gain experience and levels, increasing their basic stats. The maximum hero level is 70. Specials can be upgraded, capped at the Hero Level.
As of 18th April 2019, there are 88 heroes in total: 20 silver, 66 gold, and 2 legendary.
List of heroes
Edit
This list is sorted the same as Roster does when sorted by name: First according to character name (including changes), then variant name, with the "prime" version listed first.
Community content is available under
CC-BY-SA
unless otherwise noted.